There is a special word that only exists in German: Heimat. [ˈhaimat'] It describes the place where you feel at home, the place where you belong. The place where you feel committed, no matter what. It's exactly this feeling that the German based Heimplanet tents wants you to take with you when you roam the planet.
Heimplanet was founded in 2010 by Stefan Clauss and Stefan Schulze Dieckhoff. Two friends who shared a passion for travel, design, and outdoor adventure. The idea for Heimplanet tents came to them while they were on a surfing trip in Portugal, where they noticed that traditional tents were often difficult to set up and prone to damage from wind and weather.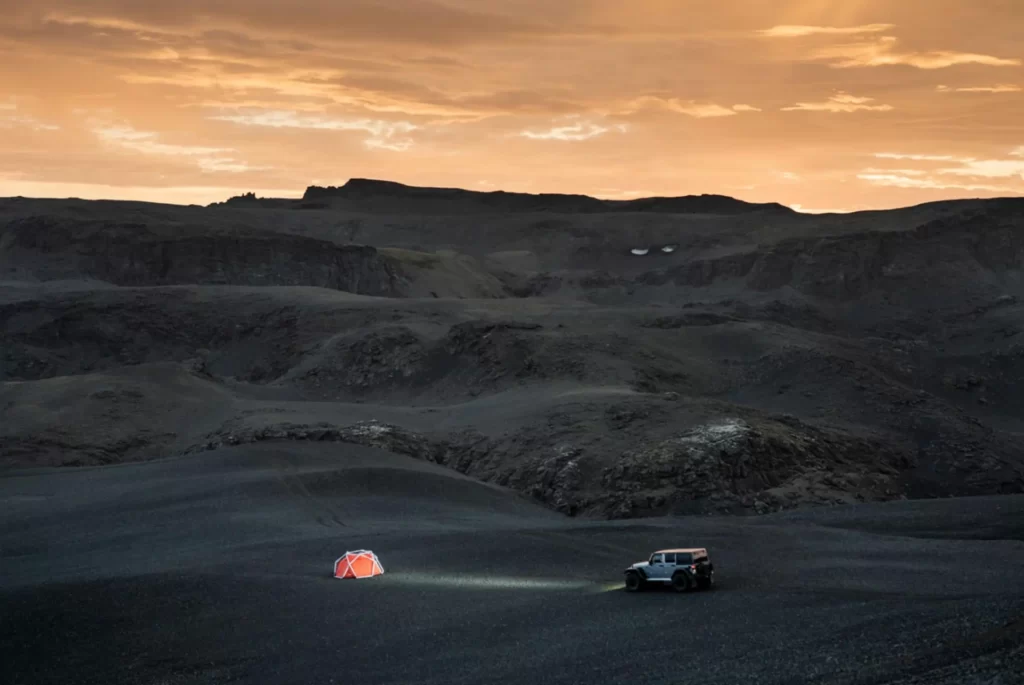 Inspired by their experiences, Clauss and Schulze set out to create a new type of tent that would be easy to set up, durable, and stylish. They began by designing and prototyping their own inflatable tents, which they tested extensively in a variety of outdoor settings. After refining their designs and perfecting their production processes, they launched their first tent model, The Cave, in 2011. Since then, the company has continued to grow and expand, offering a range of high-quality outdoor gear and accessories in addition to their signature tents. With a commitment to quality, innovation, and sustainability, Clauss and Stefan created a brand that is beloved by outdoor enthusiasts and adventurers alike.
The Heimplanet GeoDesic Design
One of the key features of Heimplanet tents is their unique inflatable design. Instead of relying on traditional poles, these tents use a system of air chambers that can be quickly and easily inflated using a pump. This makes setting up the tent much quicker and simpler than with traditional tents, which often require a fair amount of time and effort to set up properly. An eye-catching aspect of these tents is their geodesic shape. This allows for a more spacious interior and better wind resistance. This shape creates a stable and rigid structure.
Another advantage of Heimplanet tents is their durability. These tents are made from high-quality materials that are designed to withstand the rigors of outdoor use, including heavy rain, wind, and other weather conditions. Additionally, the inflatable design of these tents means that they are less likely to be damaged by bending or breaking poles, which is a common issue with traditional tents.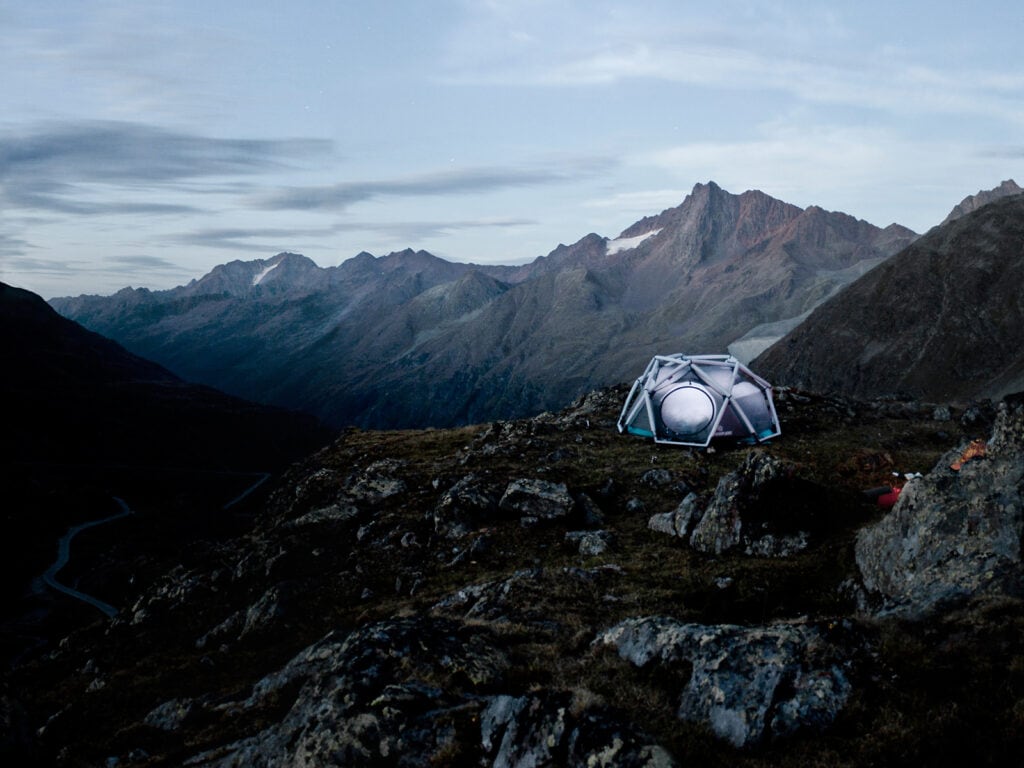 Function is always the brand's first concern. Their first model, The Cave, was born from a technical solution. The structure of a geodesic dome perfectly represents the principles the founders were searching for in a tent. It's the most stable and economical way to construct a room. In addition to their great stability, geodesic domes offer a very efficient structure due to their excellent material-to-volume ratio. In geodesic tents, three bladder cross each other several times. This divides the outer tent surface into smaller sections, resulting in greater inherent and wind stability.
The geodesic tent is therefore the first choice for very strong winds that frequently change direction. Snow loads are also no problem for most geodesics. This type of tent has proven itself especially in bad weather areas. Geodesics require few or no pegs in calm conditions. This is an important aspect when the ground is predominantly hard, e.g. in the mountains.
Design Aesthetic
In addition to their practical benefits, Heimplanet tents also offer a sleek and modern design aesthetic. These tents are available in a range of colors and patterns and their distinctive shape surely stands out in any outdoor setting.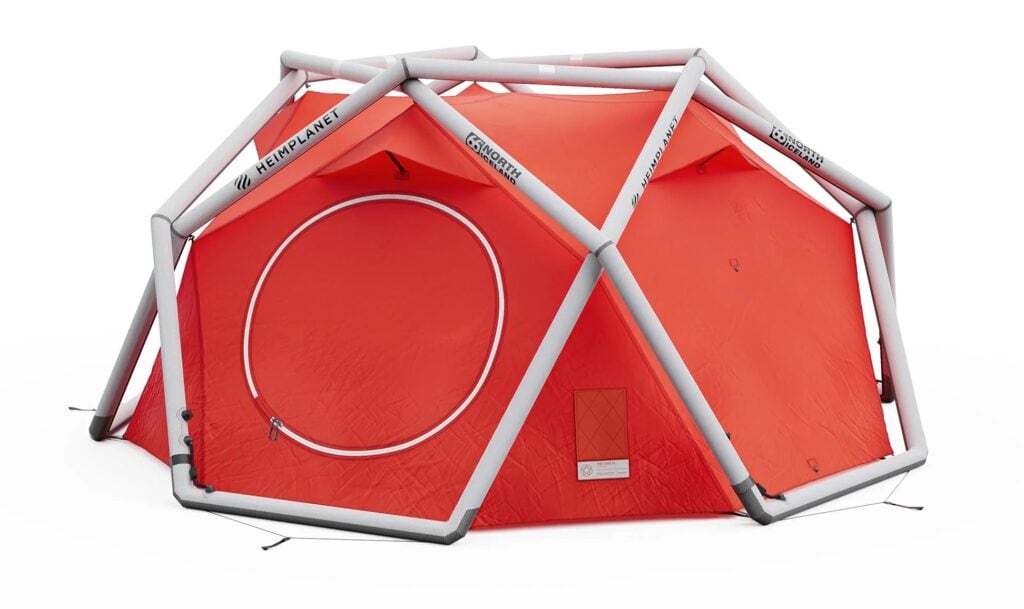 The Heimplanet tent design is unique due to several innovative features that set it apart from traditional tents:
Inflatable Diamond Grid technology. Heimplanet tents use an advanced technology called the Inflatable Diamond Grid (IDG) to create a stable and rigid structure. This technology eliminates the need for poles and allows for quick and easy setup.
Geodesic shape: Heimplanet tents have a geodesic shape that provides excellent stability and wind resistance. The shape is achieved through multiple interconnected air chambers that create a strong and rigid structure.
Adaptability to weather conditions. Heimplanet tents are designed to be adaptable to various weather conditions. The tent can be fully enclosed during harsh weather conditions. The ventilation system can be adjusted to maintain a comfortable temperature during hot weather.
Convenience: The Heimplanet tents design have convenience in mind. The tent can be inflated and set up in minutes. The pack size is relatively small, making it easy to carry and transport. The tent's waterproof and UV-resistant fabric ensures that it is suitable for use in a variety of outdoor environments.
Overall, the combination of their technology, geodesic shape, adaptability to weather conditions and convenience makes these Heimplanet tents unique. A stable, versatile, and hassle-free camping experience that is unmatched by traditional tents.
Website: / heimplanet.com