A lot of people won't agree with me but I think the T3 is the raddest Volkswagen design to date. Its simple and straight-lined shape gives this van the typical can-on-wheels look. I guess you either love or hate it. Some time ago I came across the Instagram account of German mountainbiker Rob Heran and found out about his "Syncronicles" project. Rob owned several VW vans before he invested in his latest-to-date project: a T3 Syncro (4×4) which served as a military transporter. After driving it for several years it needed a big restoration and Rob decided to go all-in with the van.
" I didn't plan to invest a huge amount of money or time. To be honest, I had no clue what I began "
It took Rob a lot of time and dedication to finalize this restoration. When the van rolled out of the cabin with a fresh paint-job all doubts and worries were blown away. The new fresh look inspired Rob to step up the game completely and he made the decision to re-do everything for the second time of the vans life. The engine has been replaced by a modern 120hp Tdi with many custom parts. A huge benefit is not just the extra power but also the modern and more eco-friendly technology that has been built in.
The car meets all modern standards – the complete interior and all door, roof and side panels are new. Rob changed many old cables, and installed LED lights and new instruments to have control over the engine at any time when driving. To be completely self-sufficient when setting up camp far away from camp sites he installed two new batteries, new chargers and a mobile 100watts solar panel to have enough power at any time. Cherry on top is a Heimplanet tent that fits on the roofrack and sets up within five minutes.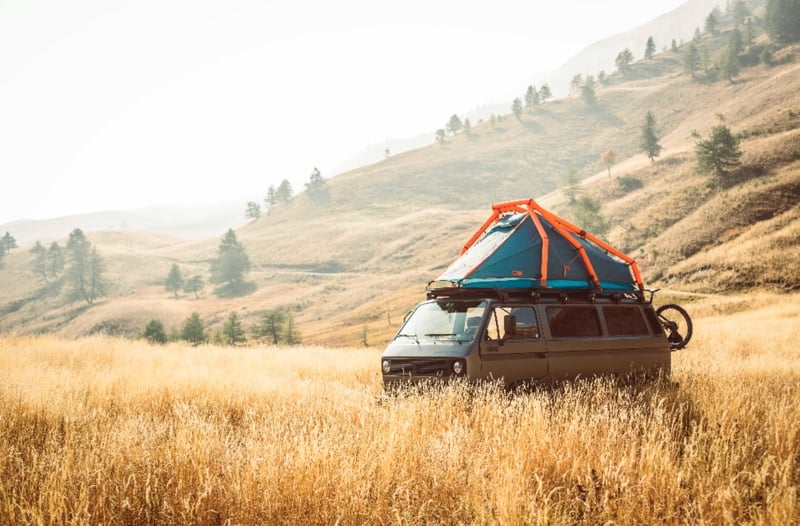 The Syncronicles
Photographer and filmmaker Sebastian Doerk captured the life on (and especially off) the road of Rob in a series of three "Syncronicles". From the Alpes Maritimes, a three-month road trip all the way down to the Atlas Mountains of Morocco towards the search for waves and trails in Portugal. The Syncronicles is a must-see trilogy of adventure life as it should be. Sit back and enjoy the videos below and make sure to read Rob's inspiring memoires and motivations on the Syncronicles website via the link at the bottom.