The Berlin-based label Ucon Acrobatics is the child of founders Jochen Smuda and Martin Fussenegger. This year marks their 20th anniversary and despite the fact the brand is globally sold in over 500 stores in over 30 countries, the team is still small and dedicated. Time to reflect and envision what it takes to run a sustainable street fashion label.
How does it feel to reach 20 years with Ucon Acrobatics?
Jochen Smuda: I would say it is a mixture of pride and speechlessness. Brands celebrating their 20th anniversary always seem very 'old' to me, and now we are at the same place. Time has gone by incredibly fast. In general, all of this still feels very fresh and young to me, as if it was only yesterday when I was standing in Martin's garden asking him to design a logo for a skate label.
What has happened in the last 20 years, I would not have thought possible at that time. And it was certainly not foreseeable or plannable. Who would have thought, for example, that after 15 years we would switch from clothes to bags and backpacks?
It's not easy to keep a company going for 20 years. How did you manage that?
Jochen Smuda: It's mainly due to our very small but great team. Martin comes from the same small town in the Allgäu region as me, and we've known each other since we were kids. Together we have always managed to get the company out of difficult situations. Actually, we already went broke twice and had our backs to the wall, but we always found creative solutions to keep going.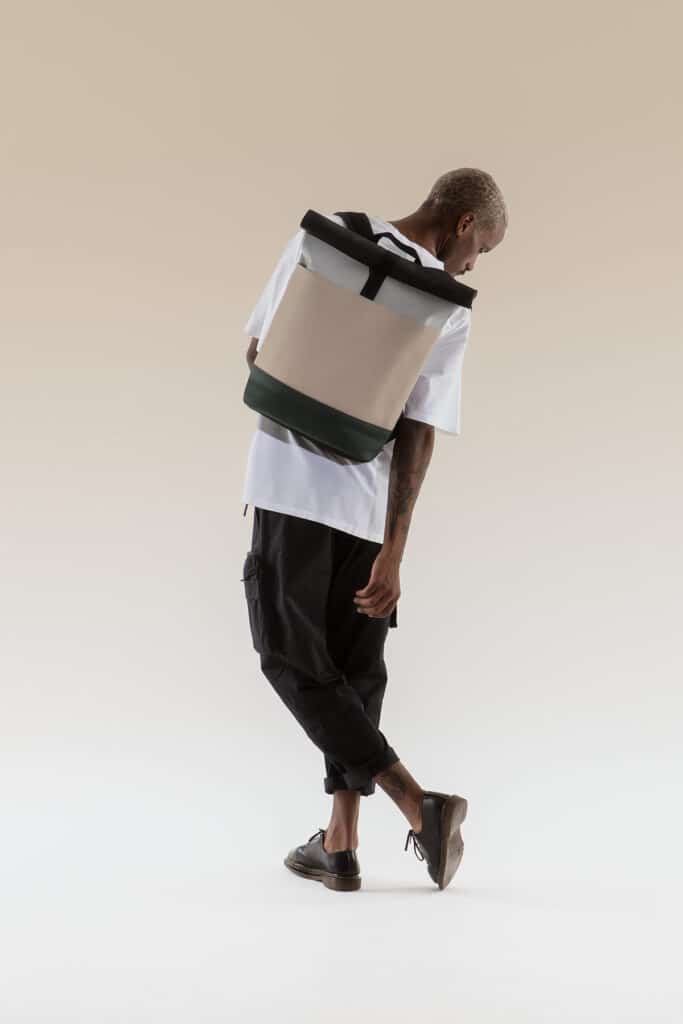 How did Ucon Acrobatics started?
Jochen Smuda: As a start-up capital, we each threw a thousand Euros into a pot, with which we then financed our first T-shirt collection. We went to skate events in our parents' car and sold the clothes out of the trunk. That was in the middle of 2001. After that we started to sell our clothes in individual skate shops, which were already a bit more ambitious.
Martin Fussenegger: We were not satisfied with the cut and quality of the commercially available T-shirts and sweaters at that time either. Through skating we had made a friend from Poland with good contacts in the textile industry and who owned a small sewing shop. It settled in our minds very early on that every product should be something we loved. Now we had the opportunity to define every detail of our products and to produce them in low quantities.
What were the first years like?
Jochen Smuda: I can remember that we slept on our friend's couch in Poland in the coldest winter wearing down jackets in our sleeping bags. He wanted to save money and had no heating in the house. We didn't care about anything at that time though. The main thing was that we could continue working on the new collection every day, directly on site in production. That was the moment when I thought 'Yeah, we did it! We have a real production going on!'
Martin Fussenegger: It was often very chaotic. We made a lot of mistakes but also learned a lot about textile production. It's worth noting that all of this happened alongside our studies – Jochen studied sports science, while I was doing product and graphic design. The label was a very ambitious hobby and each of us had other projects besides that.
After graduation, however, the label went too well to give it up for a regular job. And so Jochen suggested that we should get serious about it. Fortunately, we were able to agree on Berlin as the new location. We moved to the eastern part of the city, to Friedrichshain, and in the following year we found a great commercial property right on Boxhagener Platz – a former cowshed that we converted into a studio ourselves. We are still there today.
How did you come up with the name?
Martin Fussenegger: We grew up in the historic small town of Wangen in the Allgäu region. Since there wasn't too much going on there, we both became addicted to skating. Jochen, a talented athlete, quickly became a world-famous pro skater, and I turned into his personal photographer, which is why we were constantly moving from town to town in search of creative skate spots. In doing so you really see a city with different eyes and when we were looking for a name for our label we referred to exactly that.
For us, 'Ucon' became the acronym for 'Urban CONquest'. We love urban versatility, a kaleidoscope of cultures and the little details of everyday life. The word 'Acrobatics' stands for how highly complex things – be it in movement but also in design – can achieve elegant lightness. The appropriate tagline for Ucon Acrobatics could be: 'Balance and agility in everyday life'.
In 2016 you switched from apparel to backpacks only. Why?
Jochen Smuda: As soon as we moved to Berlin, we were able to solely work on Ucon Acrobatics for the first time. Quickly everything became more professional. There was a lot of fresh input from the local fashion scene and trade shows. It was an exciting time: there were small fashion labels everywhere in Berlin. As a brand, we evolved quickly – from a skate label to streetwear to street fashion. But this also meant that the competition became more intense.
Martin Fussenegger: In the years that followed, our collection quickly grew to 150 pieces per season. We had also started to offer some bags and backpacks as accessories. For my diploma thesis, I had already developed a backpack series made of water hyacinths and had therefore already become somewhat familiar with the topic.
We were now able to build on this and, fortunately, the backpacks sold extremely well right from the start. The clothing sales, on the other hand, were increasingly sluggish. In the end, only every third piece made it into production because we couldn't reach the minimum quantity for the others.
Making the Switch
Jochen Smuda: We didn't want to compromise on our high-quality standards or on fair production conditions, which had been important to us right from the start. It's just that sustainability wasn't as big a topic at the time as it is today. We couldn't keep up with the rapid rotation and falling prices on the clothing market.
We were also tired of the constant discussions about margins and discounts. Then came the point where we no longer felt like being a part of it. The decision to switch completely to bags and backpacks was obvious. The effort and subsequent return of the clothing collection was no longer in a healthy relationship and therefore we have been producing only bags and backpacks since 2016.
What makes Ucon Acrobatics unique as a brand?
Martin Fussenegger: Of course there is a lot of competition in bags and backpacks, but we quickly found our own way by taking the concept and minimalist look of our clothing and transferring it by using high-quality materials, unique silhouettes, minimalist design and innovative detail solutions.
The functionality is barely visible in our products and limited to only a few elements. This is how we manage to be more timeless than others. Many of our models have been around since the beginning, but we regularly make improvements to them.
The goal is to create products that are as durable as possible in order to meet our sustainability standards. Developing environmentally friendly materials, for example, is a big part of my daily work.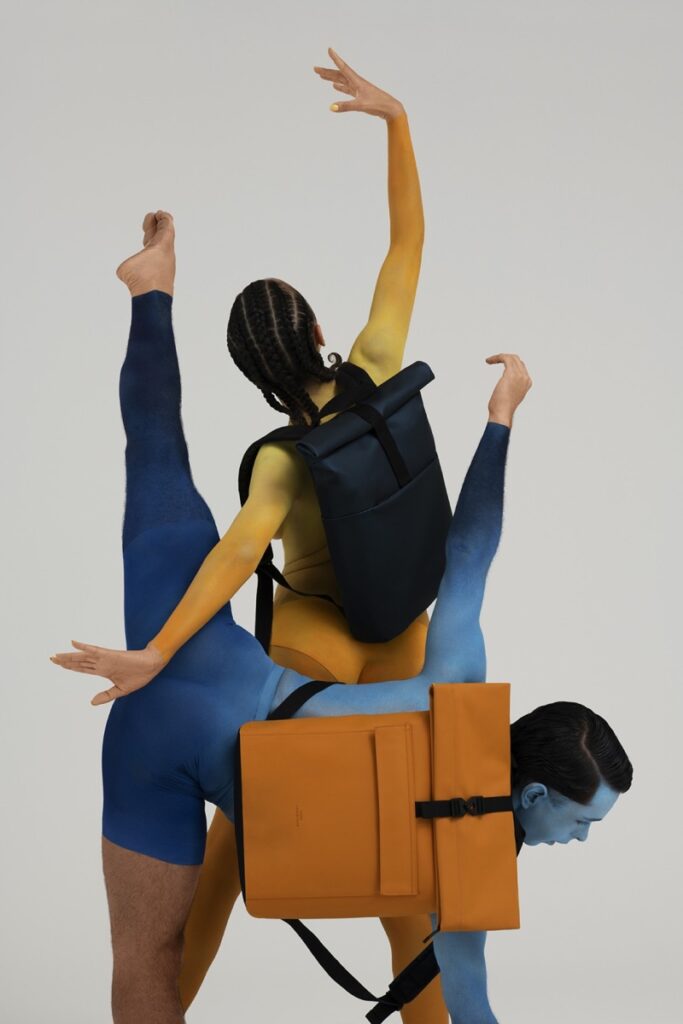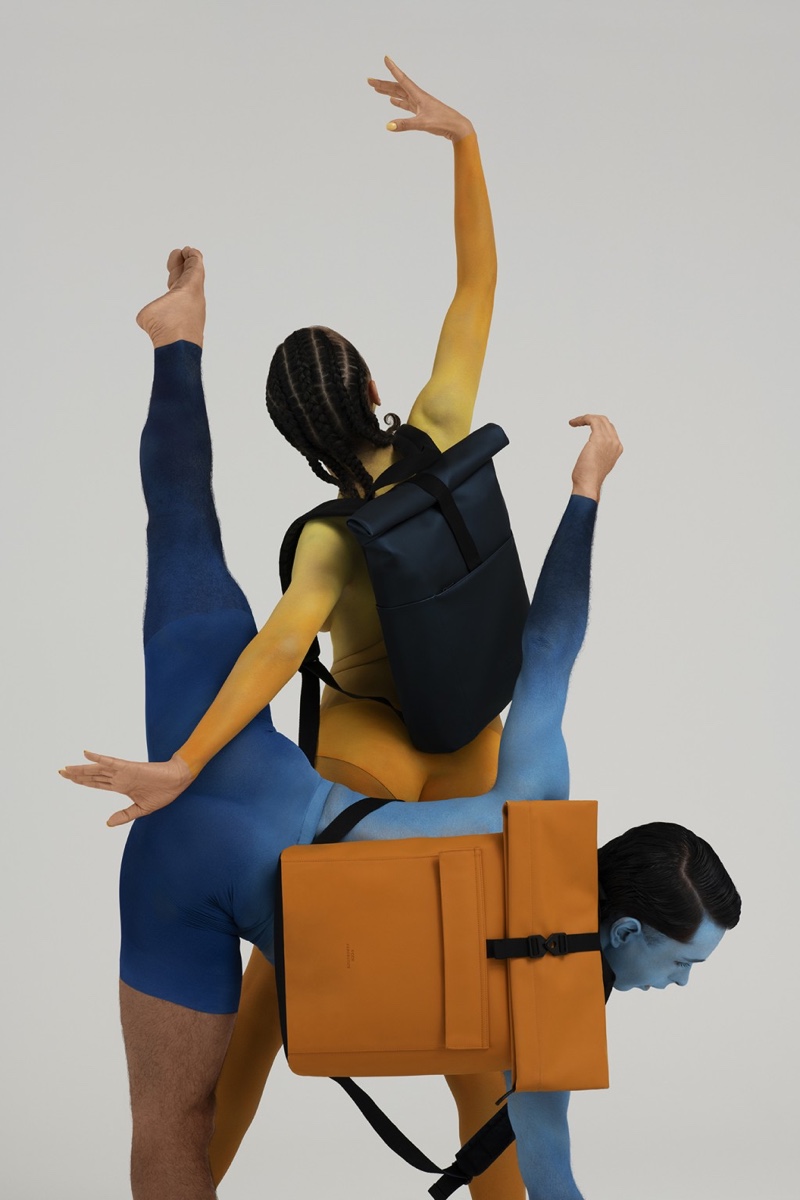 Tell us about the many artist collaborations and the MOTIF project.
Jochen Smuda: Our claim is not to be a run-off-the-mill brand, but to lead the way with new ideas and concepts. Collaborating with young and talented photographers, artists or brands is extremely important to us. Take for example our experimental photo series MOVADO with Tobias Faisst in which a body paint artist sprayed the models' bodies. We are always on the lookout for brands that have a similar approach to ours in order to work together on outstanding products.
We are all very design and art savvy and our artist collaborations have been a fundamental part of our company philosophy from the beginning. For example, on the MOTIF charity project we collaborated with over 30 of the world's best artists and design studios like Sucuk & Bratwurst, CeeCee, Leif Podhajsky and many more.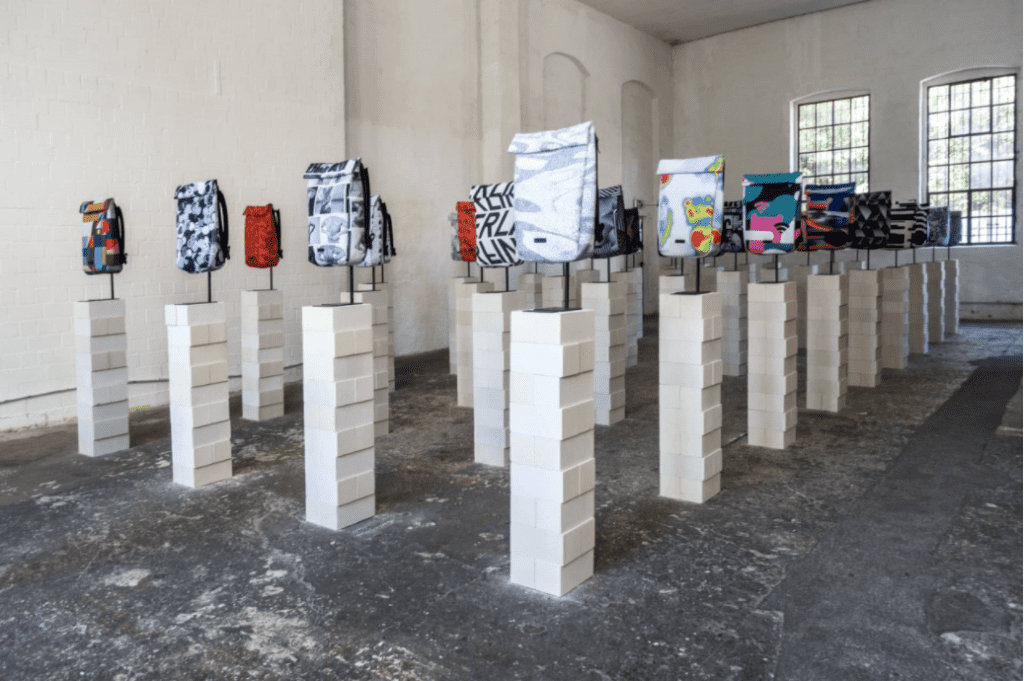 The entire proceeds from MOTIF went to Streem Magazine, a street magazine with a focus on contemporary art that supports homeless people in Berlin. Especially this year (2021), for the anniversary, we have put a very big focus on the collabs again and we are extremely excited about all the projects we are going to release this year.
Sustainability is an important topic for you guys. What makes Ucon Acrobatics a sustainable company?
Martin Fussenegger: Climate change poses challenges to each and every one of us. Everyone has to do their part and set a good example. But we are glad that we have loyal partners at our side for this huge task, from B-corp to PETA to MyClimate and Save the Children. With their help, we can optimize processes, make the right decisions, meet standards in terms of social and environmental performance, and keep reducing our CO2 emissions.
We also focus on transparency with our sustainability report. It provides full insight into our supply chain, materials used, manufacturing including wages and working hours and much more. We don't keep anything to ourselves, but play with open cards. Sustainability is anchored in our DNA and comes above everything else. Any process we can do better, we do better.
One of our maxims: No one should suffer for our products – not people, not animals, and not the environment. We try to live sustainability both as a brand and personally. For example, our office runs on green electricity. We all come to work on foot or by bike and eat a pure vegetarian diet.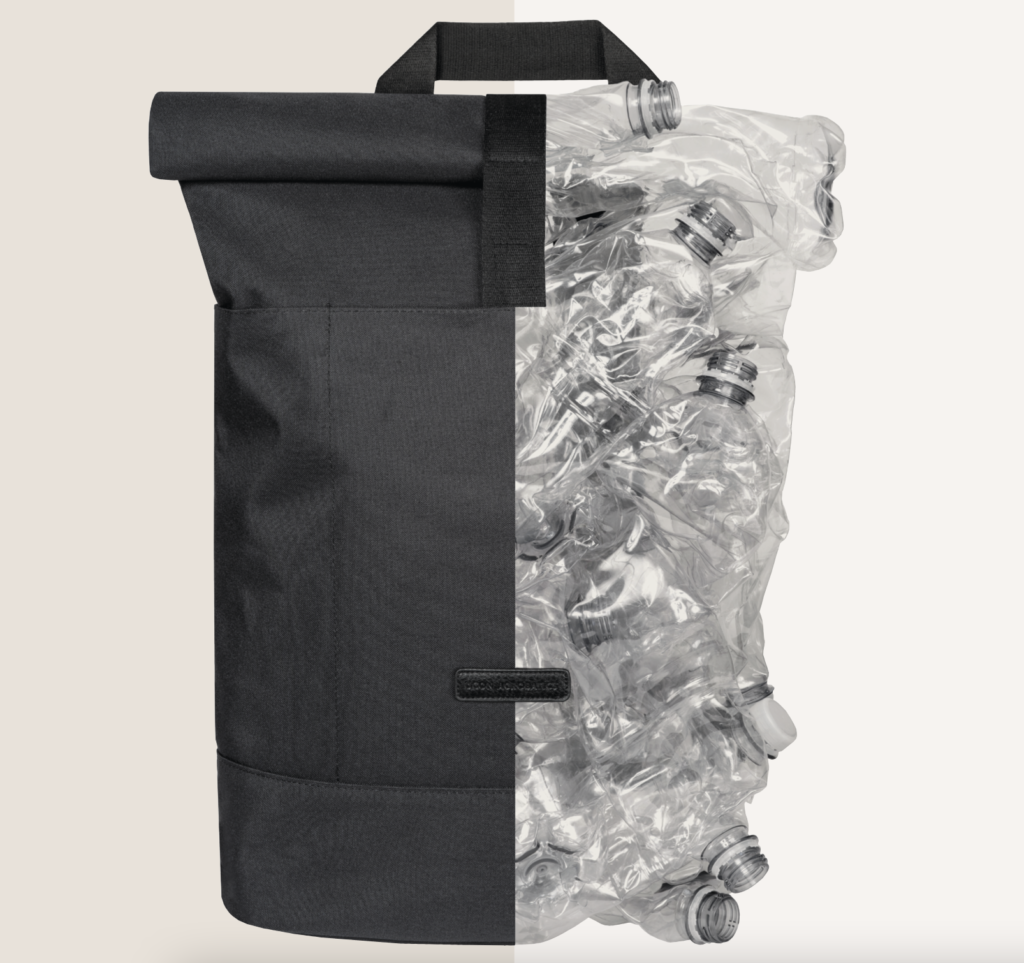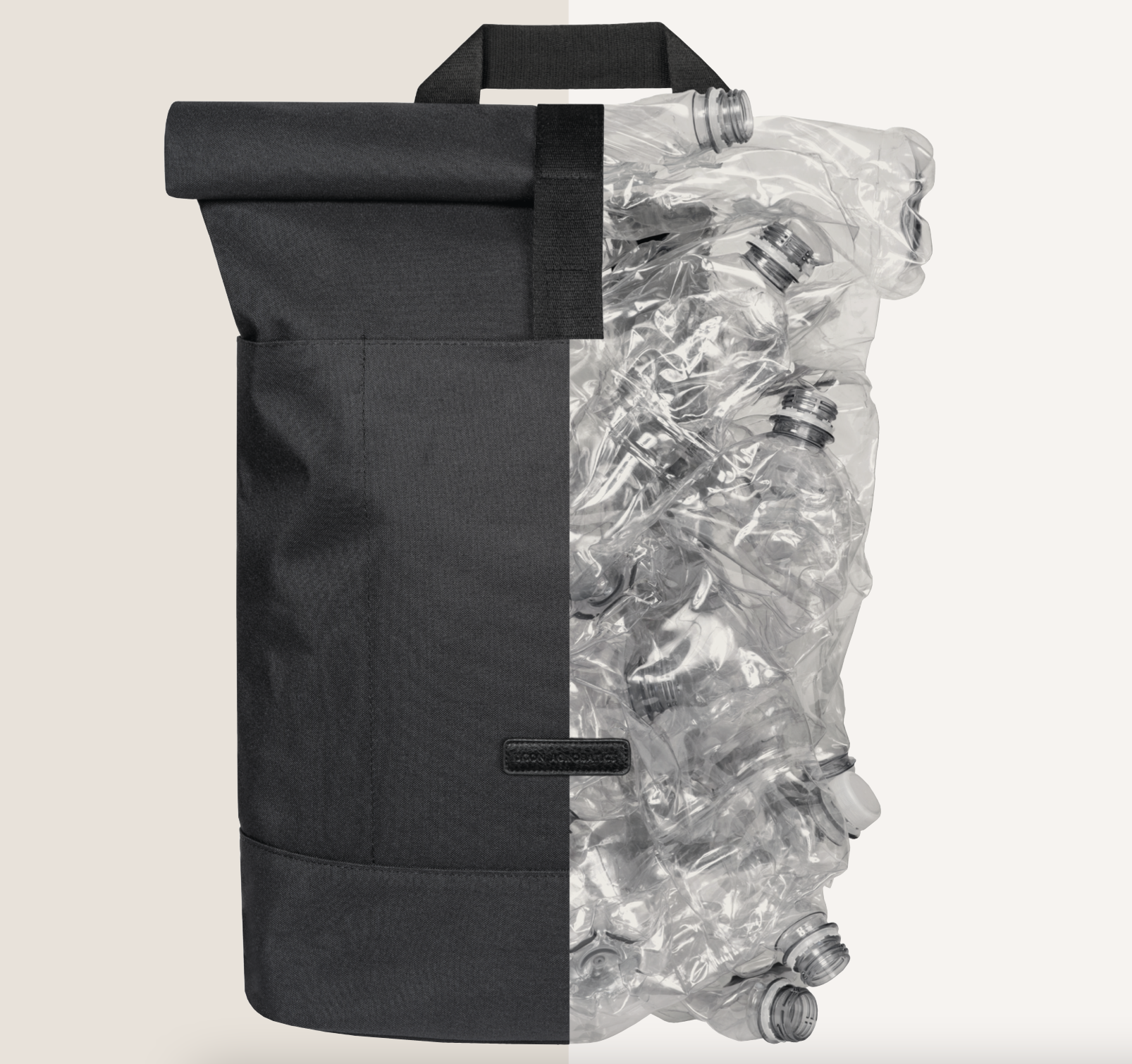 You mainly use synthetic and recycled fibers like rPET. How did you come up with this?
Martin Fussenegger: The biggest focus for us in terms of sustainability is on materials, because that's the area with the largest impact. We started with bags and backpacks made of cotton. However, we found the conventional cotton industry increasingly off-putting because it involves some terrible agricultural practices. Cotton is very water intensive and requires enormous amounts of pesticides. We found the supply chains to be not transparent and the transport distances too long. All of this is problematic and did not go in the right direction for us.
Synthetic fibers can be more robust than cotton and lighter at the same time. Since 2018, we have been very keen on manufacturing products with as much recycled content as possible. This is working out better and better. We have now established PET as the main material, which is made from recycled water bottles. Here we cooperate with the company 'Repreve', which stands for transparent processes.
Our backpacks now also come with a laptop compartment made of upcycled neoprene. We are working hard to expand the list of such sustainable materials. All materials are free of animal ingredients and PETA certified. Also, you won't find any toxins, bleach, heavy metals or allergens like nickel in our products and packaging.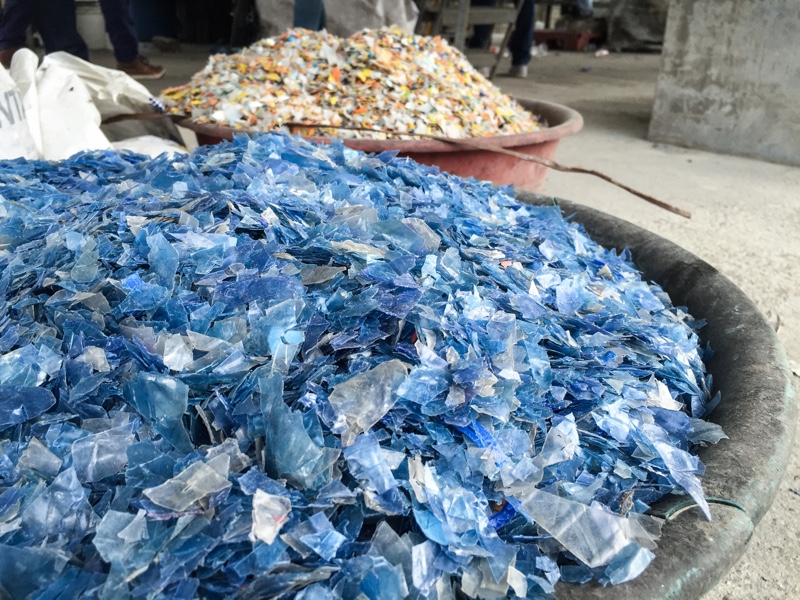 What else do you consider when choosing materials for the backpacks?
Martin Fussenegger: In addition to the sustainability aspect it is important to us that the products are water-repellent or even waterproof. Since backpacks are extremely hard wearing and used every day, the materials also need to be robust and resilient. Due to our intensive involvement with the topic of materials, we have learned a lot. However, 'vegan leather' remains a challenge, which we are gradually mastering.
Jochen Smuda: In the past, we have produced paper backpacks in collaboration with a material manufacturer from Germany. We also launched a complete series made of cork years ago. On the occasion of our anniversary we are now launching several series with reflective materials, in which we have already invested two years of development. There will even be completely waterproof backpacks especially for cyclists.
Why do you produce in China?
Martin Fussenegger: Most of our clothing was made in Europe and we would have loved to continue that with bags and backpacks. However, we quickly reached our limits, because almost all the materials would have had to be imported into the EU. That in turn would not have brought any advantage in terms of the CO2 balance.
As far as synthetic materials are concerned, you can hardly get past Asia. China has grown to become the largest manufacturer in this area. Especially since many major brands have moved their production from China to Vietnam and Indonesia in recent years, we are able to produce in Chinese factories that already have decades of experience.
To what extent is your production in China sustainable and transparent?
Martin Fussenegger: Fair production is not solely dependent on the country. We have committed ourselves to high standards and our production partners agree with us on quality, working conditions and environmental standards. We have a code of conduct and anyone who wants to work with us must meet these standards. These are available for download on our website for anyone who is interested.
Currently, these are three smaller plants, each with fewer than 200 employees, located in the Fujian, Guangzhou and Shenzhen areas. The latter is the Silicon Valley of China and has become one of the most expensive cities in the world. If you don't pay decent wages there, employees will quickly work elsewhere.
In addition to the regular visits of our external quality controllers, I am also on site several times a year. In the current situation, that's not possible, but over the years we've built up a great deal of trust with our production partners, so that we can survive a pandemic without a drop in quality.
Doesn't production in Asia involve high CO2 emissions?
Martin Fussenegger: Sustainability is also important to us when it comes to transport. We want to avoid unnecessary transport routes and most suppliers are not far away from each other. Whenever possible, we source materials from nearby regions and transport as many goods as possible in the most economical and environmentally friendly way. For example, we rely on the new rail route from China to Germany or ship directly from the factory to our sales partners. This allows us to avoid unnecessary transport distances leading to a significantly lower CO2 footprint.
To look forward to another 20 years: What do you wish for in the future?
Jochen Smuda: We want to establish ourselves as a brand that combines minimalism and functionality in the most beautiful way. We want to continue to implement great projects full of creativity with labels, stores and magazines and make our products even better. Currently, for example, we are trying to gain a foothold in China.
Martin Fussenegger: For me, overcoming the climate catastrophe is the most important task of our generation. Even though our label is only a very small cog in the big wheel, I hope that we can continue to do our part. We want to continue to make environmentally conscious decisions to protect people and the environment so that we can pass on a future worth living to the next generations.
Website / www.ucon-acrobatics.com
Instagram / https://www.instagram.com/ucon_acrobatics/