Even when you're not into motorcycles, the design and aesthetics of the Swedish company CAKE Bikes probably makes you look twice. This electric bike brand is the latest venture of entrepreneur Stefan Ytterborn. Stefan has the vision to develop high-quality and sustainable performance products. Let's dig a little deeper into this electric off-road motorcycle company.
Zero-Emission Society
CAKE's mission is to engage people towards a zero-emission society. Combining excitement with responsibility. So the brand established a new category of light, quiet and clean electric motorbikes. The goal is to adapt new electric technology for outdoor adventurers in a way that makes exploration easy and environmentally friendly. It surely isn't his first brand endeavour as Ytterborn also is the founder of the innovative POC cycling and ski helmets.
"We have a strong commitment to sustainability, and I would say that the biggest threat to sustainability is our pace of consumption, so on our side it's all about extending life cycles" – Stefan Ytterborn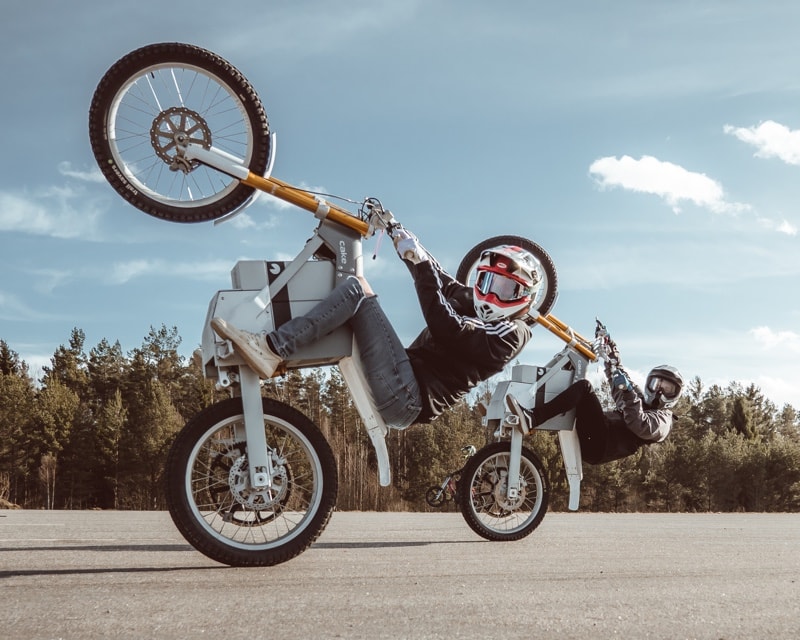 The fact that all CAKE bikes are electric is not enough for their claim of being sustainable. The brand definitely goes the extra mile to make as less impact on the environment as possible. Recently the company introduced re:CAKE. A global program that aims to extend the lifecycle of CAKE motorcycles, by offering customers to purchase certified pre-owned bikes. The re:CAKE program offers customers the opportunity to buy a refurbished bike that has been thoroughly inspected, overhauled and given an official stamp of approval.
In addition they also announced a technological partnership with PaperShell. PaperShell is a natural fiber composite that is stronger than plastic but with a significantly lower climate impact. CAKE will work together with PaperShell to evaluate the properties of the material and its potential use as an alternative to certain plastics currently used in their production.
Last year the Swedish manufacturer opened its new factory in Albyberg, Stockholm, Sweden. Another scale-up in sustainable production by establishing local manufacturing hubs closer to customers in its primary markets.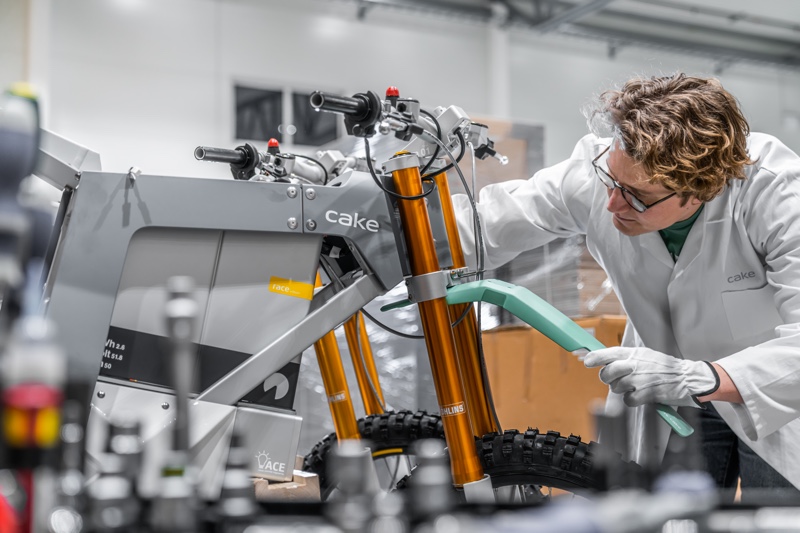 The range of CAKE bikes currently consists of three different platforms. The versatile offroader Kalk, the modular utility bike Ösa, and the urban commuter Makka.
Introducing the Kalk
The first CAKE Bike was the KALK. The name comes from the Swedish word for limestone. "Kalk" is the bedrock of Gotland, a Swedish island in the Baltic Sea.
Ytterborn designed and manufactured this model in 2016 from the ground up. With every part developed from scratch, the bike itself establishes a new category. Enhancing discovery and exploration while respecting people and planet. Designed with accessibility in mind, CAKE simplified traditional features for off-road bikes. For example by eliminating gears and clutching and replacing them with a selection of riding modes.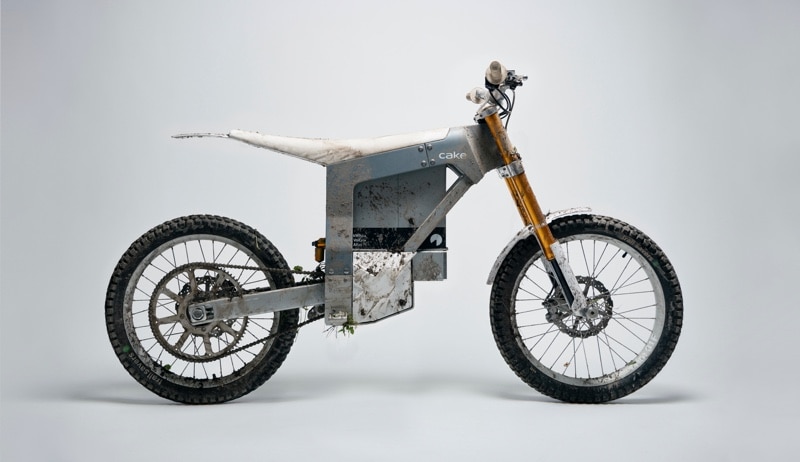 The Kalk weighs only 75 kg. including the battery, has a topspeed of 90 km/h and a range of up to 3 hours of riding. It's designed to minimize environmental impact. For instance, the tires are fatter than a mountain bike's but without the sharp, soil-shredding edges of a motorbike's.
Riding dirt bikes is fun. But it's also loud, smelly, disruptive to any wildlife that might be in the vicinity. And annoying to every other hiker or biker who might cross paths with you. The Kalk solves all those problems.
There's also a EU and U.S. street-legal Edition: the Kalk INK SL. Thanks to the addition of turn signals, front headlight, brake lights and license plate holder.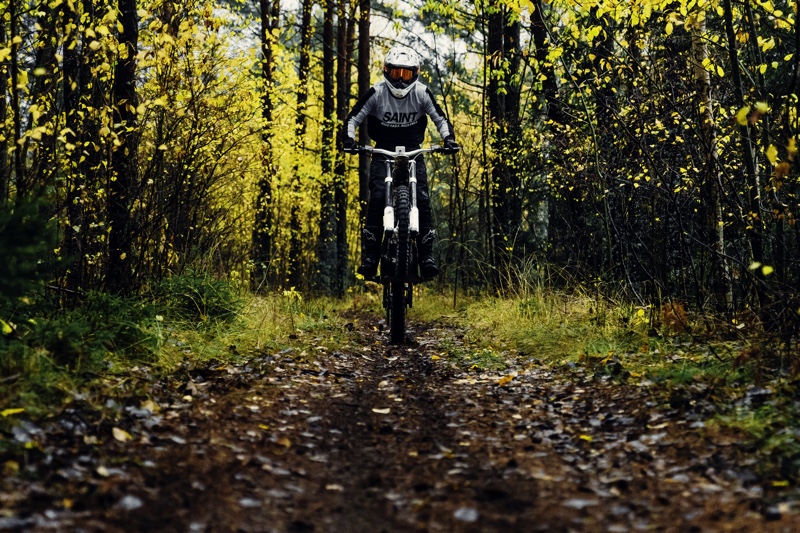 Urban Commuting with Makka
Makka is a lightweight state-of-the-art machine doubling as a smart configurations platform for everyday mobile needs. With its emphasis on power to weight ratio, easiness of riding, reach, its efficiency carrying stuff and durability it is the ultimate tool for clean, short-haul transportation and commuting.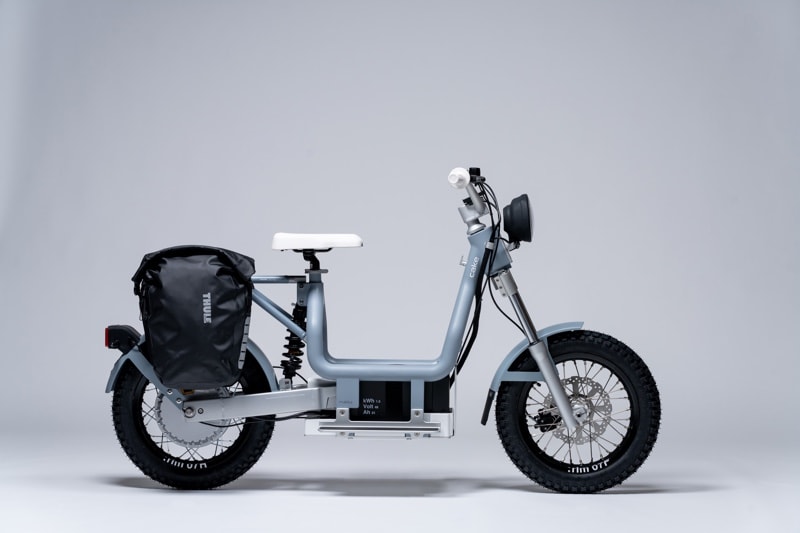 The compact Makka is not offroad oriented like the preceding models Kalk and Ösa. This bike is targeting a wider audience without the need for a motorcycling license. Aside from its gravel capability for weekend excursions or taking the beating from commercial use, it comes with a variety of accessories to serve individual needs of what to carry along.
"With cities and its mobility changing faster than expected with cleaner and more efficient solutions, we have been eager to share the Makka. An urban short-haul vessel, compact in size and price, reaching a wide audience in the process of deciding what their future means of transportation will be." – Stefan Ytterborn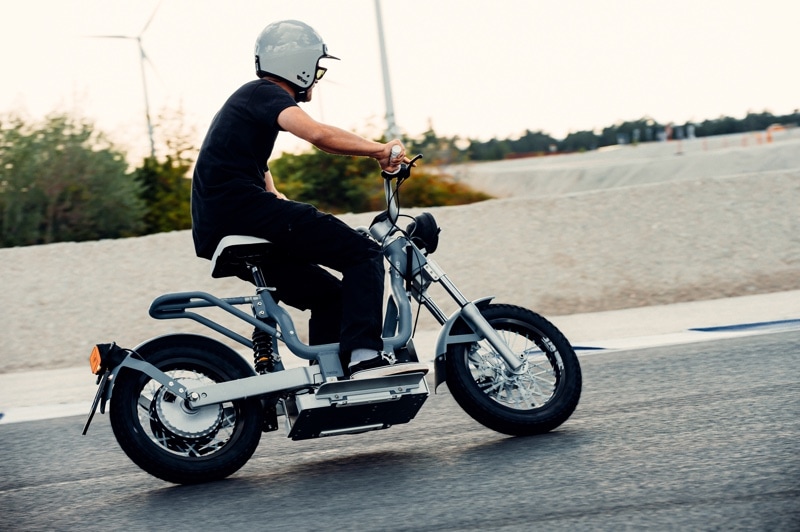 The Kalk AP – Anti Poaching Bike
Through a partnership with the Southern African Wildlife College (SAWC), CAKE developed the Kalk AP. The SAWC, located just outside Kruger National Park, trains and deploys rangers to enforce anti-poaching laws. In vast areas of the bush, the sound of approaching vehicles warns illegal hunters to pack up and flee. But the quieter Kalk AP bike eliminates that problem.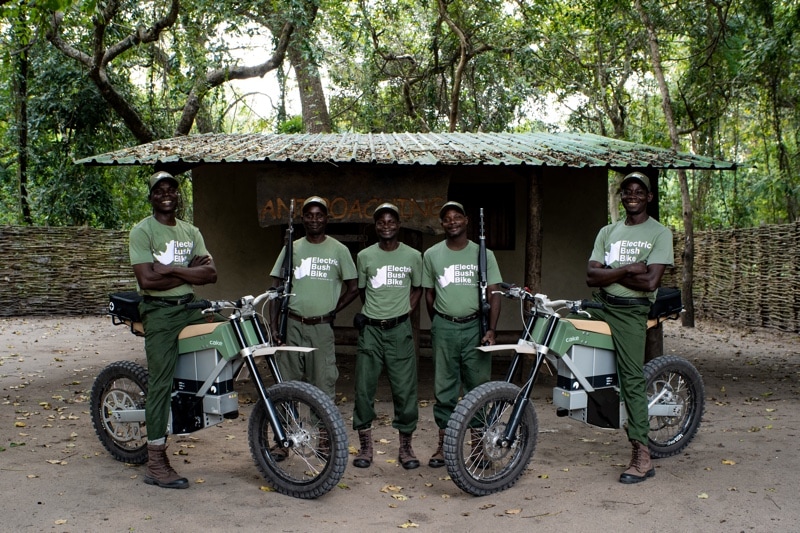 Besides the noise, gasoline-powered motorcycles have another drawback. Keeping the bike fueled while patrolling remote areas often is a serious logistical challenge. That's why the Kalk AP has a solar panel charger from Goal Zero to keep it juiced up while out in the wild.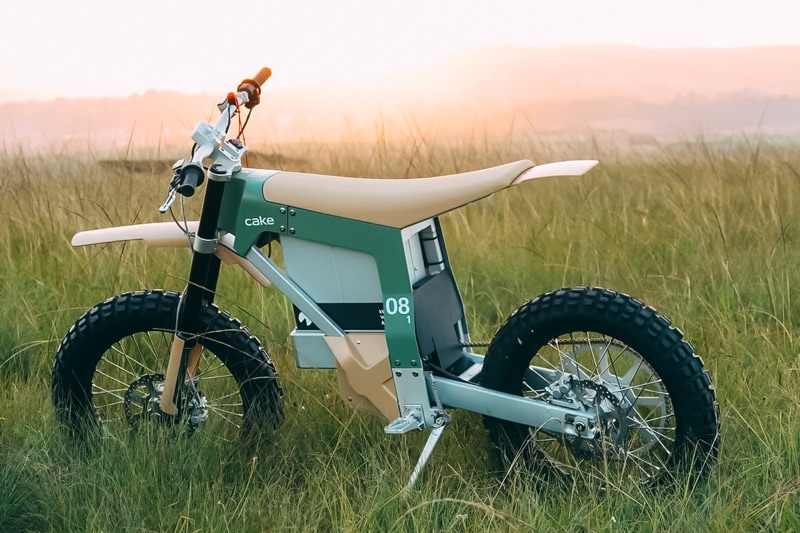 Website / ridecake.com
Instagram / instagram.com/ridecake